The 2019-20 Afterschool ArtWorks session is underway and our apprentices are already hard at work in their co-ops! This year we extended the afterschool session to combine the Fall and Spring sessions for allow for more indepth learning for our teens.
Running from October 8 - March 7, teens will be working for 16 weeks afterschool on Tuesdays and Thursdays from 4:30-7:30pm.
Mark your calendar
ArtWorks Live!
Saturday, March 7, 2020 at 7pm
Tri-C Metro's Main Stage Theater
Session Updates
Throughout the 2019-20 Afterschool session, we will be posting updates from each co-op to share their progress over the 16 weeks. Click the links below to jump directly to the content of a particular week.
Dates: Tuesday, November 12 + Thursday, November 14
Visual Arts Co-op Update
To inspire the apprentices as they continue to dig into their learning about entrepreneurship, this week featured two guest instructors who worked with the Visual Arts teens:
Entrepreneur Anne Cate came in to talk to apprentices about how she started her company in college and the marketing techniques she used. Apprentices had a chance to ask Anne questions and have her look over their ideas for Tiger Tank. Anne Cate owns Anne Cate store that screen prints city skylines on to clutches and bags.
Robin Eisen came in to do a workshop with the apprentices on best techniques used by small businesses for pitches. Robin Eisen runs a consultant form that helps entrepreneurs build their brand and deliver pitches.
Dates: Thursday, November 7
Full Group Professional Development
This week it wasn't just the Visual Arts co-op who got into the Entrepreneurial spirit. The entire cohort gathered for a professional development session to hear from local Cleveland Arts Entrepreneuers who shared insights from their personal experience becoming business owners.
Thank you to Asia Armour of Art Amour LLC, David Ramsey of Deep Roots Art Experience, Shanae Frazier of Body Rocks Dance Studio, Rose Moroney of Candid Ready Photography, & Tyra Sledge of 6th Street Vintage, LLC for passing on your knowledge with the apprentices!
Dates: Tuesday, October 29 + Thursday, October 31
Fashion Design Co-op Update
This week, ArtWorks apprentices in the Fashion Design Co-op are building upon the sewing basics by practicing hand stitching with their MTA Sharie Renee of Cosmic Bobbins
After an overview on different techniques, fabrics, and measurements, the apprentices also began to sketch designs for their showcase. Some teens formed groups to collaborate while others decided to work alone. Stay tuned to see how their designs take shape!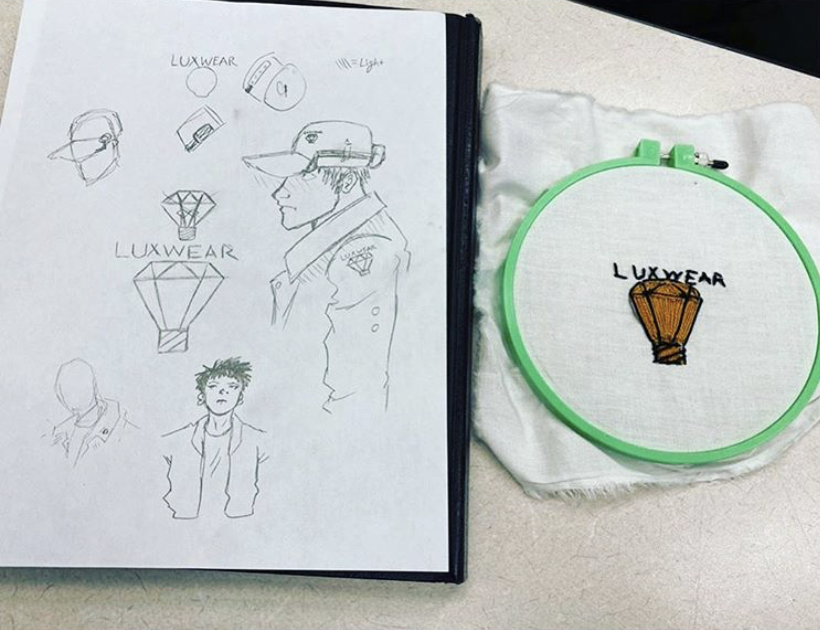 ArtsWorks Celebrates Halloween!
Don't Miss the Visual Arts Co-op at Holiday at the Hildebrant!
Save the Date:
Saturday, November 30, 2019
3619 Walton Ave. Cleveland, OH
10am-5pm
Does the snowy weather have you thinking about the holidays yet? Well the #ArtWorks Visual Arts Co-op is ready to help you with your holiday shopping list!
Apprentices have created art, greeting cards, and ornament sets to sell on November 30th at the Hildebrandt Artist Collective Holiday Sale in Svona Studio.
Proceeds from their sales will help fund their final project, an apparel line at Snakes + Acey's that promotes youth voting.
Dates: Tuesday, October 22 + Thursday, October 24
Hip-Hop/Krump + Fashion Design Update
Each ArtWorks session, part of the apprentices' learning focuses on community engagement through service learning projects.
On Thursday, October 24 the Fashion Design and Hip-Hop/Krump Co-ops volunteered at the annual Harvest Fest at the Friendly Inn Settlement. Fashion Design worked with event-goers to create DIY Halloween Masks and the Hip-Hop/Krump apprentices taught basic Krump dance moves at the festival.
Mark your calendar for the ArtWorks Mid-session Open House on December 5!
Save the Date: Thursday, December 5, 2019
Dates: Tuesday, October 15 + Thursday, October 17
Visual Arts Co-op Update
Thanks to generous funding from the Burton D. Morgan Foundation, our ArtWorks youth entrepreneurship curriculum, The Creative Path, continues this session in our Visual Arts co-op, lead by Master Teaching Artist Ryan Upp.
The 12 apprentices are competing in teams of 4 to create and pitch an apparel line and visual campaign to increase youth voting in Northeast Ohio. The winning team will be awarded $1000 to create their visual line at Snakes + Acey's in Little Italy.
This week, apprentices met Hannah Manocchio, entrepreneur and owner of Snakes and Acey's to learn about her business. The goal of this learning is to introduce teens to the entrepreneurial mindset and illustrate how to build a business around your art.
Dates: Tuesday, October 8 + Thursday, October 10
Professional Development Session:
Culture and Diversity Training with Dr. Tameka Taylor of Compass Consulting Services
Theater/Poetry Co-op Update
This week, our apprentices spent some time getting to know each other by gathering as a full group. They also participated in a culture and diversity training, which is how we start all ArtWorks sessions, as a way highlight the importance of creating an inclusive environment for our teens.
Then the co-ops broke off and dove right into action! The theater/poetry apprentices, lead by MTA Kalim Hill, started by working on some exercises focused on the fundamentals of theater.
Apprentices learned:
To follow or quickly take the lead without letting the audience know who is leading or following
To articulate your words and sounds
Proper mouth movements and sounds
To quickly take direction and act out a scene
To let lose and step out of your comfort zone
To express themselves through acting and poetry
Getting here: The ArtWorks Apprentice Selection process
CAL has built its ArtWorks apprentice selection process, to simulate the job hiring process in order to give teens valuable experience as they prepare to enter the work force.
The process is highly competitive, as we normally receive three applications for every available spot in the program.
After submitting their applications, teens in grades 10-12 come in for an interview at our CAL offices on Magnolia Drive with a member of the CAL staff. The interviews last approximately 10-15 minutes. In addition to answering our questions, this is an opportunity for applicants to ask any questions they have about the program.
Once accepted into the ArtWorks program the new apprentices, along with a parent or guardian, attend an orientation where they receive their handbook, review program policies and expectations, and fill out their tax forms for payment.
2019-20 Afterschool co-ops
For this session, 40 apprentices were selected and placed into four co-ops:
Fashion Design
Hip-Hop/Krump
Theater/Poetry
Visual Arts